What is SciQuest?

SciQuest is a leading provider of strategic procurement, supplier and contract management solutions. SciQuest provides cloud-based business automation software solutions that help buyers manage spending, suppliers, contracts, sourcing, shopping, inventory, and accounts payable more efficiently.SciQuest offers business process automation solutions that enable greater visibility and compliance organization-wide to help buyers gain control, optimize efficiencies, and reduce spend.
What Is The SciQuest Supplier Network?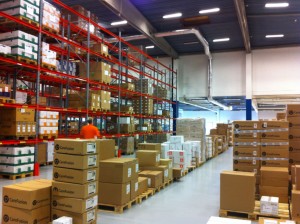 SciQuest provides a user-friendly interface that enables customers the ability to shop hosted or "punch-out catalogs" quickly and easily. SciQuest provides a strategic management streamlines buyer-supplier connections across the procure-to-pay process and benefits our mutual customers. Customers depend upon the market-leading SciQuest Supplier Network – the network with no transaction fees – that consists of 150,000+ active, unique suppliers. SciQuest provides customers a critical mass of suppliers in one centralized, global hub that provides customers with one place to interact with all of their suppliers, and a central place for suppliers to manage their own business information ensuring it's up-to-date and accurate. If you are unfamiliar with the term or the procurement punch-out catalog shopping process we'll explain below.
What is a punch-out catalog?
A punch-out catalog is a connection between buyers procurement system and a sellers e-commerce site. This allows us and other suppliers the ability to provide real-time catalog information to our customers. The punch-out process provides customers with a better experience and provides a bridge between legacy EDI or Electronic Data Interchange and portals like SciQuest.
Benefits to our customers
Each custom, branded eMarketplace allows customers to search, discover, and purchase items quickly and easily.
Easily manage communication with all SciQuest Supplier Network suppliers
Provides customers a seamless, simple and yet effective solution for buying what they when they need it, while reducing overall purchasing costs for the institution.
Options for automating purchasing, accounts payable and a host of eProcurement benefits.
SciQuest Terminology
Hosted Catalog
Our products (catalog data) are loaded onto the hosted catalog along with a private price file into the SciQuest application.
Punch-Out Catalog
With a Punch-Out Catalog, the shopper clicks on the supplier's logo (e.g. Universal Medical Inc.) within the SciQuest eMarketplace to initiate the punch-out. Each supplier punch-out site is unique and specific to their own development capabilities.
Workflow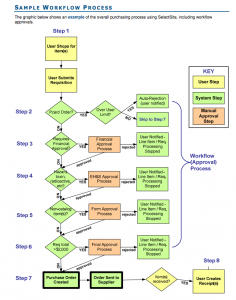 Workflow is a generic term. The term is used to describe a step in the workflow process and may be referred to as workflow queues. Once the shopping cart is submitted, the customers' workflow is applied and requested items are routed for approval(s). The workflow process will vary by organization and the complexity of the product and purchasing process. For many customers the process will include four steps including the user shopping for items, submitting item requisition, receives item and creates receipt. A more detailed overview of the approval and workflow process has been created by SciQuest to assist users.
Two Major Phases
Purchase Requisition workflow
Purchase Order workflow
eProcurement In Under 2 Minutes
To learn more,  SciQuest has created a helpful video that provides an overview of the benefits of eProcurement. If you have any questions regarding our supplier catalog, please feel free to contact us at info@universalmedicalinc.com for more information.