96-Well Plate F-Bottom Shape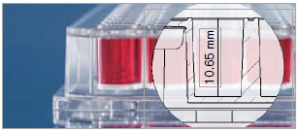 Flat Well Bottom
The F-bottom shape has a flat well bottom and is available in 96-, 384-, and 1536-well formats. The F-bottom is designed for precise optical measurements and is well suited for colorimetric determinations as well as microscopy applications. The measuring light source is not deflected by the well profile. The flat bottom of the wells provide excellent optical properties. In addition, the F-bottom shape is used for specific applications such as cell culture.
Available Plate Types
Available Surface Types
Available Colors 
96-Well Plate 
The table below represents the variety of f-bottom shape microplates available in the 96-well format.
| Cat. No. | Surface | Cavities | Material | Type | Color | Bottom type | Volume | Pack of |
| --- | --- | --- | --- | --- | --- | --- | --- | --- |
| 781602 | pureGrade™ | 96-well | PS | Standard | transparent | F | 350 µl | 100 |
| 781605 | pureGrade™ | 96-well | PS | Standard | white | F | 350 µl | 100 |
| 781608 | pureGrade™ | 96-well | PS | Standard | black | F | 350 µl | 100 |
| 781610 | pureGrade™ | 96-well | PS | Transp. Bottom | white | F | 330 µl | 100 |
| 781611 | pureGrade™ | 96-well | PS | Transp. Bottom | black | F | 330 µl | 100 |
| 781614 | pureGrade™ | 96-well | PS | Transp. Bottom | UV transparent | F | 350 µl | 50 |
| 781615 | pureGrade™ | 96-well | PS | Transp. Bottom | UV transparent | F | 350 µl | 50 |
| 781662 | pureGrade™ S | 96-well | PS | Standard | transparent | F | 350 µl | 50 |
| 781665 | pureGrade™ S | 96-well | PS | Standard | white | F | 350 µl | 50 |
| 781668 | pureGrade™ S | 96-well | PS | Standard | black | F | 350 µl | 50 |
| 781670 | pureGrade™ S | 96-well | PS | Transp. Bottom | white | F | 330 µl | 50 |
| 781671 | pureGrade™ S | 96-well | PS | Transp. Bottom | black | F | 330 µl | 50 |
| 781722 | immunoGrade™ | 96-well | PS | Standard | transparent | F | 350 µl | 100 |
| 781731 | immunoGrade™ | 96-well | PS | Transp. Bottom | black | F | 330 µl | 100 |
| 781732 | immunoGrade™ | 96-well | PS | Transp. Bottom | black | F | 330 µl | 5 |
| 781782 | hydroGrade™ | 96-well | PS | Standard | transparent | F | 350 µl | 100 |
| 781842 | lipoGrade™ | 96-well | PS | Standard | transparent | F | 350 µl | 100 |
| 781850 | lipoGrade™ | 96-well | PS | Transp. Bottom | white | F | 330 µl | 100 |
| 781851 | lipoGrade™ | 96-well | PS | Transp. Bottom | black | F | 330 µl | 100 |
| 781852 | lipoGrade™ | 96-well | PS | Transp. Bottom | white | F | 330 µl | 5 |
| 781853 | lipoGrade™ | 96-well | PS | Transp. Bottom | black | F | 330 µl | 5 |
| 781902 | inertGrade™ | 96-well | PS | Standard | transparent | F | 350 µl | 40 |
| 781905 | inertGrade™ | 96-well | PS | Standard | white | F | 350 µl | 40 |
| 781909 | inertGrade™ | 96-well | PS | Standard | black | F | 350 µl | 40 |
| 781910 | inertGrade™ | 96-well | PS | Transp. Bottom | white | F | 330 µl | 40 |
| 781911 | inertGrade™ | 96-well | PS | Transp. Bottom | black | F | 330 µl | 40 |
| 781912 | inertGrade™ | 96-well | PS | Transp. Bottom | white | F | 330 µl | 5 |
| 781913 | inertGrade™ | 96-well | PS | Transp. Bottom | black | F | 330 µl | 5 |
| 781962 | cellGrade™ | 96-well | PS | Standard | transparent | F | 350 µl | 50 |
| 781965 | cellGrade™ | 96-well | PS | Standard | white | F | 350 µl | 50 |
| 781968 | cellGrade™ | 96-well | PS | Standard | black | F | 350 µl | 50 |
| 781970 | cellGrade™ | 96-well | PS | Transp. Bottom | white | F | 330 µl | 50 |
| 781971 | cellGrade™ | 96-well | PS | Transp. Bottom | black | F | 330 µl | 50 |
| 781974 | cellGrade™ | 96-well | PS | Transp. Bottom | white | F | 330 µl | 5 |
| 781975 | cellGrade™ | 96-well | PS | Transp. Bottom | black | F | 330 µl | 5 |
| 782022 | cellGrade™ plus | 96-well | PS | Standard | transparent | F | 350 µl | 50 |
| 782025 | cellGrade™ plus | 96-well | PS | Standard | white | F | 350 µl | 50 |
| 782028 | cellGrade™ plus | 96-well | PS | Standard | black | F | 350 µl | 50 |
| 782030 | cellGrade™ plus | 96-well | PS | Transp. Bottom | white | F | 330 µl | 50 |
| 782031 | cellGrade™ plus | 96-well | PS | Transp. Bottom | black | F | 330 µl | 50 |
| 782034 | cellGrade™ plus | 96-well | PS | Transp. Bottom | white | F | 330 µl | 5 |
| 782035 | cellGrade™ plus | 96-well | PS | Transp. Bottom | black | F | 330 µl | 5 |
| 782082 | cellGrade™ premium | 96-well | PS | Standard | transparent | F | 350 µl | 50 |
| 782085 | cellGrade™ premium | 96-well | PS | Standard | white | F | 350 µl | 50 |
| 782088 | cellGrade™ premium | 96-well | PS | Standard | black | F | 350 µl | 50 |
| 782090 | cellGrade™ premium | 96-well | PS | Transp. Bottom | white | F | 330 µl | 50 |
| 782091 | cellGrade™ premium | 96-well | PS | Transp. Bottom | black | F | 330 µl | 50 |
| 782094 | cellGrade™ premium | 96-well | PS | Transp. Bottom | white | F | 330 µl | 5 |
| 782095 | cellGrade™ premium | 96-well | PS | Transp. Bottom | black | F | 330 µl | 5 |