96-Well Plate V-Bottom Shape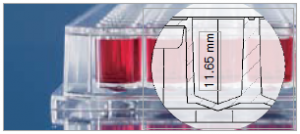 Conically-Shaped Well Bottom
The 96-well format V-bottom shape has a conically-shaped well bottom. The conical shape is designed with maximizing sample recovery. This bottom shape is ideal for precipitation assays and for the storage of samples. Microplates with the this bottom shape are ideally suited for applications in which the entire sample volume must be pipetted off. The sample collects at the well bottom and allows for precision pipetting.
Available Plate Types
Available Surface Types
Available Colors 
96-Well Plate 
The table below represents the variety of v-bottom shape microplates available in the 96-well format.
| Cat. No. | Surface | Cavities | Material | Type | Color | Bottom type | Volume |
| --- | --- | --- | --- | --- | --- | --- | --- |
| 781601 | pureGrade™ | 96-well | PS | Standard | transparent | V | 360 µl |
| 781661 | pureGrade™ S | 96-well | PS | Standard | transparent | V | 360 µl |
| 781721 | immunoGrade™ | 96-well | PS | Standard | transparent | V | 360 µl |
| 781841 | lipoGrade™ | 96-well | PS | Standard | transparent | V | 360 µl |
| 781961 | cellGrade™ | 96-well | PS | Standard | transparent | V | 360 µl |