Microplate Lids: Protect Samples From Evaporation And Contamination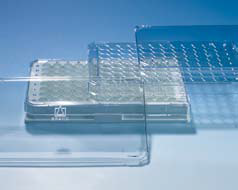 Lids For Microplates
To protect samples, reaction batches or cell cultures from both evaporation and contamination, compatible lids are available for all BRANDplates® microplates. The lids are made of crystal-clear polystyrene. They are optimally matched to the corresponding BRANDplates® microplates, so that plates with lids can also be stacked. The cut corner sets the orientation of the lid. The lids are perfectly matched to the different microplates and are available with and without condensation rings. The chimney well design of the 96-well standard plates in combination with the condensation rings substantially reduce the risk of contamination and evaporation. A total of four different lid types are available depending on the plate used, and can be purchased separately.
Films For Microplates 
Self adhesive sealing films complete the product range for BRANDplates® microplate
sealing. In the case that the microplates need not only to be covered, but also securely sealed, self-adhesive films are available. These film sheets can be easily applied on the plates and removed without the use of expensive equipment. They are available in different versions and are well-suited for storage or cell- and tissue culture.