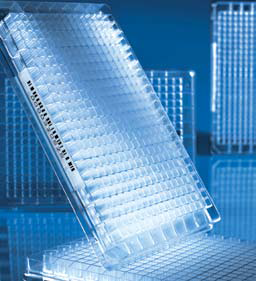 Application: Agglutination Assay
Agglutination Tests
Agglutination reactions may be used to detect either the presence of antigen or antibody in a sample¹. When the antigen is particulate, the reaction of an antibody with the antigen can be detected by agglutination (clumping) of the antigen². The general term agglutinin is used to describe antibodies that agglutinate particulate antigens.
Transparent well plates are especially suited for precise optical measurements for applications such as agglutination assays because of their excellent optical characteristics. For this reason, they are used for colorimetric assays, but also find use in the fields of cell culture and storage. Transparent well plates are available in standard microplates.
Application Criteria
Surface Type: Non-Treated, Immunoassay, and Cell Culture
Cavities: 96-well, 384-well, and 1536-well
Material: Polystyrene
Well Plate Types: Standard Format
Color: Transparent Microplates
Bottom Types: F-Bottom, C-Bottom, U-Bottom, and V-Bottom
Product Selection Table
To help guide you through the microplate selection process we have developed a comprehensive selection table for transparent plates below. Products can be sorted by item number, surface type, number of cavities, microplate material, plate type, microplate color, bottom type and volume.
Questions? 
This is a comprehensive list of transparent microplates, if you have a specific question please feel free to contact us for more information.
Microplate Sample Program
We understand that selecting the right microplate is an important consideration and that is why we are excited to invite you to try our risk free sample program so that you can try the microplate in your laboratory before making your initial purchase.
| Cat. No. | Surface | Cavities | Material | Type | Color | Bottom type | Volume |
| --- | --- | --- | --- | --- | --- | --- | --- |
| 781601 | pureGrade™ | 96-well | PS | Standard | transparent | V | 360 µl |
| 781602 | pureGrade™ | 96-well | PS | Standard | transparent | F | 350 µl |
| 781603 | pureGrade™ | 96-well | PS | Standard | transparent | C | 350 µl |
| 781620 | pureGrade™ | 384-well | PS | Standard | transparent | F | 100 µl |
| 781640 | pureGrade™ | 1536-well | PS | Standard | transparent | F | 10 µl |
| 781660 | pureGrade™ S | 96-well | PS | Standard | transparent | U | 330 µl |
| 781661 | pureGrade™ S | 96-well | PS | Standard | transparent | V | 360 µl |
| 781662 | pureGrade™ S | 96-well | PS | Standard | transparent | F | 350 µl |
| 781663 | pureGrade™ S | 96-well | PS | Standard | transparent | C | 350 µl |
| 781680 | pureGrade™ S | 384-well | PS | Standard | transparent | F | 100 µl |
| 781700 | pureGrade™ S | 1536-well | PS | Standard | transparent | F | 10 µl |
| 781720 | immunoGrade™ | 96-well | PS | Standard | transparent | U | 330 µl |
| 781721 | immunoGrade™ | 96-well | PS | Standard | transparent | V | 360 µl |
| 781722 | immunoGrade™ | 96-well | PS | Standard | transparent | F | 350 µl |
| 781723 | immunoGrade™ | 96-well | PS | Standard | transparent | C | 350 µl |
| 781740 | immunoGrade™ | 384-well | PS | Standard | transparent | F | 100 µl |
| 781780 | hydroGrade™ | 96-well | PS | Standard | transparent | U | 330 µl |
| 781782 | hydroGrade™ | 96-well | PS | Standard | transparent | F | 350 µl |
| 781783 | hydroGrade™ | 96-well | PS | Standard | transparent | C | 350 µl |
| 781800 | hydroGrade™ | 384-well | PS | Standard | transparent | F | 100 µl |
| 781840 | lipoGrade™ | 96-well | PS | Standard | transparent | U | 330 µl |
| 781841 | lipoGrade™ | 96-well | PS | Standard | transparent | V | 360 µl |
| 781842 | lipoGrade™ | 96-well | PS | Standard | transparent | F | 350 µl |
| 781843 | lipoGrade™ | 96-well | PS | Standard | transparent | C | 350 µl |
| 781860 | lipoGrade™ | 384-well | PS | Standard | transparent | F | 100 µl |
| 781900 | inertGrade™ | 96-well | PS | Standard | transparent | U | 330 µl |
| 781902 | inertGrade™ | 96-well | PS | Standard | transparent | F | 350 µl |
| 781960 | cellGrade™ | 96-well | PS | Standard | transparent | U | 330 µl |
| 781961 | cellGrade™ | 96-well | PS | Standard | transparent | V | 360 µl |
| 781962 | cellGrade™ | 96-well | PS | Standard | transparent | F | 350 µl |
| 781963 | cellGrade™ | 96-well | PS | Standard | transparent | C | 350 µl |
| 781980 | cellGrade™ | 384-well | PS | Standard | transparent | F | 100 µl |
| 782000 | cellGrade™ | 1536-well | PS | Standard | transparent | F | 10 µl |
| 782022 | cellGrade™ plus | 96-well | PS | Standard | transparent | F | 350 µl |
| 782040 | cellGrade™ plus | 384-well | PS | Standard | transparent | F | 100 µl |
| 782082 | cellGrade™ premium | 96-well | PS | Standard | transparent | F | 350 µl |
| 782100 | cellGrade™ premium | 384-well | PS | Standard | transparent | F | 100 µl |