96-Well Plate C-Bottom Shape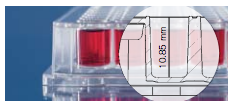 Flat Bottom With Curved Edges
Flat bottom with curved edges. The C-bottom combines the advantages of U-bottom and F-bottom. Because of the curved edges, better sample mixing is obtained. The flat bottom in the middle area of the wells at the same time allows the realization of precise optical measurements. The C-bottom is specially suited for immunological assays, as sample stirring has a major impact on precise assay results as well as optical measurement to determine those results.
Available Plate Types
Available Surface Types
Available Colors 
96-Well Plate 
The table below represents the variety of c-bottom shape microplates available in the 96-well format.
| Cat. No. | Surface | Cavities | Material | Type | Color | Bottom type | Volume | Pack of |
| --- | --- | --- | --- | --- | --- | --- | --- | --- |
| 781849 | lipoGrade™ | 96-well | PS | Standard | black | C | 350 µl | 100 |
| 781846 | lipoGrade™ | 96-well | PS | Standard | white | C | 350 µl | 100 |
| 781843 | lipoGrade™ | 96-well | PS | Standard | transparent | C | 350 µl | 100 |
| 781789 | hydroGrade™ | 96-well | PS | Standard | black | C | 350 µl | 100 |
| 781786 | hydroGrade™ | 96-well | PS | Standard | white | C | 350 µl | 100 |
| 781783 | hydroGrade™ | 96-well | PS | Standard | transparent | C | 350 µl | 100 |
| 781729 | immunoGrade™ | 96-well | PS | Standard | black | C | 350 µl | 100 |
| 781726 | immunoGrade™ | 96-well | PS | Standard | white | C | 350 µl | 100 |
| 781723 | immunoGrade™ | 96-well | PS | Standard | transparent | C | 350 µl | 100 |
| 781663 | pureGrade™ S | 96-well | PS | Standard | transparent | C | 350 µl | 50 |
| 781603 | pureGrade™ | 96-well | PS | Standard | transparent | C | 350 µl | 100 |