Select the right well plate material for highest quality for reproducible results from test to test!
Quality raw materials are essential when manufacturing microplates, that is why selecting the right well plate material is so important.
Most types of BRANDplates® microplates are manufactured of high quality polystyrene (PS) plastic. Polystyrene is an amorphous, glassy polymer that is generally rigid.
Uncolored (PS) polystyrene provides a high transparency with optimal optical characteristics, making it especially suited for colorimetric assays and other optical measurements.
Untreated (PS) polystyrene is hydrophobic in nature. The hydrophobic qualities of the untreated PS microplates allows the surface to be modified specifically via physical chemical treatments. The variety of applications available when using a microplate with this type of surface characteristic increases depending on the chosen process.
Application Examples
BRAND's modifications are stable at room temperature, and have a long shelf life.
Raw Material 

Raw material selection is a crucial step when manufacturing a premium quality product. Not only are the physical and chemical properties critical in the field of microplate production, the optical characteristics of the end product are also crucial.
Injection Molding Dies
The quality of the product is a direct reflection of the quality of the injection molding dies used. High performance machining allows optimal process management and leads to consistent quality from item to item.
The results are products with barely visible injection markings, without flash and perfect optical characteristics that meet the required tolerances on every item!
Clean Room Production 
All microplates are produced in clean rooms from class 5 to 8 according to ISO 14 644-1. To avoid microbiological and molecular biological contamination throughout the whole production line as much as possible the injection molding process, automatic embossing, surface treatment and packaging are organized using isolated manufacturing rooms and robotic support in a directly interlinked process.
Laboratory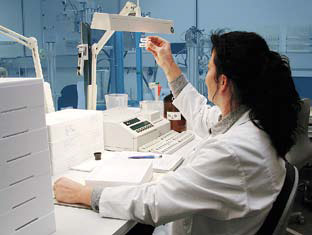 After the products have left the closed production line, they are subjected to a variety of optical and functional examinations, before they are tested for molecular biological contamination. BRANDplates ® microplates are regularly checked by independent, accredited test laboratories. With sensitive detection methods, depending on the intended use, the following criteria are tested:
• Endotoxins < 0.01 EU/ml
• DNA, DNase, RNase
• Cytotoxic substances according to DIN EN ISO 10 993
All sterilization is performed via β-radiation in a validated process according to
ISO 11137 and the AAMI-guidelines. A SAL of 10-6 is guaranteed. The sterility meets the requirements of the Ph.Eur. and the USP 29.